Less than 2 miles from the port is the island of Benidorm, a true symbol of this coastline and the object of mythical legends about its genesis. For us it is simply a small paradise in which to enjoy extraordinary and surprising seabeds, with a lot of marine life and with privileged views of the vigorous urban profile of Benidorm.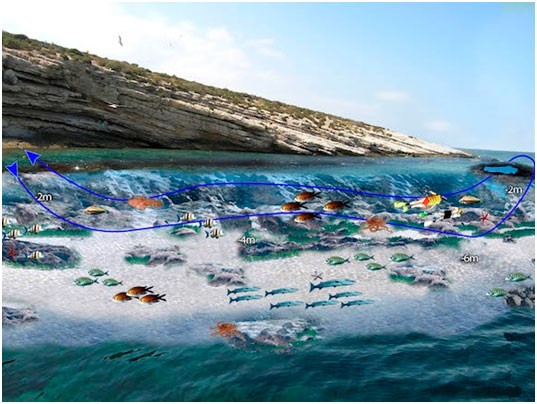 The recommended route for our snorkeling trip is the one that takes us following the profile of the island to the south, that is, leaving the wall on our left, until we reach a colorful stone arch that, like a window to the blue, will invite us to go through it, which we can easily do when we are no more than -2 meters deep.
On the way we will observe that the bottom appears as a soft rocky edge only occasionally dotted by some rock and that a little further apart it is gaining depth at the same time that larger and larger stones emerge, some of which serve to tie the ropes. to which the surface buoys are attached.
The rocky platform hides numerous cracks and crevices that are home to small crustaceans and fish such as gobies, and where the gaps are larger, perhaps an octopus that takes shelter behind its peculiar barricade of stones and shells.
The castanets are very abundant and they weave curtains in incessant movement while, deeper, the clouds of bream and obladas are the ones that dominate, counting on occasions with the fleeting appearance of spits and some bream.
After arriving at the height of the arch we can start the return while we continue to be entertained with the observation of the thousand interesting motifs that mark this luminous route.
Enjoy the Marine Fauna of the Benidorm Island Natural Park and come with us to snorkel or snorkel. We give you everything you need. Always the boat with divers and suitable for all ages.